A must read for managing your career
Career Coach: How to plan your career and land your perfect job
Bored with your job? Frustrated at work? Need a big career change but don't know what? Perhaps you've watched as colleagues have fast-tracked their careers while you've been left behind. Or maybe you've got friends and work mates who've reinvented their career and wish you could do the same. If you're feeling dissatisfied or stuck with your current career or job, then this book is radically going to change your prospects! How? You need your own one-to-one consultation with an inspiring careers coach – and that's what you'll find inside.
By giving you the tools to match your experience and skills to the exciting new career you dream of – and a plan of how to get it – you'll be able to make your career aspirations a reality. Career Coach shows you how to take back control over your career. Using the latest career management techniques you'll develop your own personal step-by-step action plan to make your job and career aspirations a reality, whatever they may be.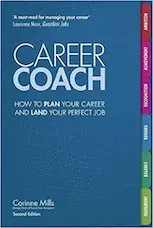 This practical workbook takes you through a full career analysis exactly like a real career coach would; follow the week-by-week programme and complete the insightful quizzes and questionnaires to help you pinpoint your personal strengths and skills. Then work out how to match your experience and potential to a fulfilling and successful career – and how to achieve it.
Written by the UK's leading career management expert, Corinne Mills, you can be sure you're getting the best advice from someone who knows the UK job market inside out – unlike other books available which are written by American authors for job hunters in the US.
Motivating and inspiring, Career Coach shows you how to make smart decisions about your future career so you can really turn your dreams into a reality. Don't be afraid to take the leap – reinvent your career and make it happen!
"This book is a must-have for anybody at a crossroads in their career. If you ve lost your sense of direction at work, then Career Coach is the perfect book to get you thinking about where you want to go and the next steps to get there. Corinne Mills is a top career coach and if you can t check in for a personal consultation, this book is the next best thing" James Brockett, News Editor, People Management
"A must have for anyone serious about their career. If you want to be in charge of your own career you must have this book" Louisa Peacock, Jobs Editor The Daily & Sunday Telegraph
Available to order now on Amazon.
To download the book resources go to the Downloads page.