How to write a brilliant CV
You're Hired! How to write a brilliant CV is essential reading for creating the best possible CV for the job you want, whether you're just starting out or moving your career forward.
This CV book guides you through the preparation process to identify your most relevant skills and experiences for the position you are applying for. The step-by-step guide enables you to develop a great CV with ease, tackling all aspects from format to functionality. Filled with real-life examples and practical advice on how to address more tricky information, use your CV and stand out from the competition makes this an indispensable guide for job hunters. Make sure you're hired!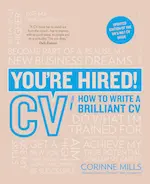 Goes beyond the usual staid advice… Expertly written with tons of helpful advice, this is a thoroughly researched guide to getting the most from your CV – and your career. Management Today
A CV book has to stand out from the crowd… has to impress with its good sense, its insight and its practicality. This one does. The Daily Express
You're Hired! How to write a brilliant CV is the No.1 CV book in the UK and is available to buy on Amazon.
Corinne gives her top CV tips in this short video clip below